Solutions
AGS' proven state-of-the-art solutions for IBM Informix® data servers help organizations ensure that mission-critical database applications remain up and perform at peak levels, manage complexity and assure continuing availability of vital business information.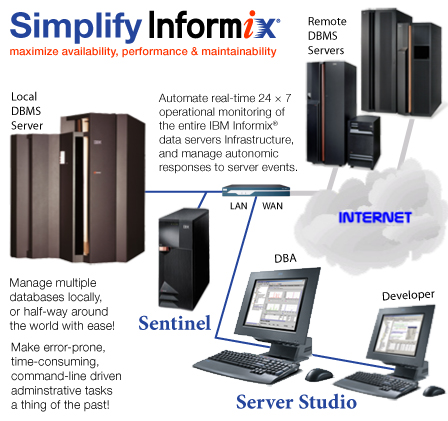 Server Studio™ and Sentinel™ are complementary software products which together provide a powerful solutions infrastructure that helps both seasoned database professionals and novices alike manage IBM Informix® data servers environment complexities with ease and significantly improved productivity. This multi-platform suite of integrated, highly intuitive system management tools provides wide-ranging functionality that enables database professionals to:
Improve efficiency of database development and testing
Manage multiple databases from a single console
Automate daily database maintenance tasks
Preserve database investment by automating database configuration auditing and change management
Proactively diagnose performance and availability problems
Enable real-time autonomic responses to server events
Obtain maximum leverage from existing storage investments
Resolve problems with comprehensive SQL tuning
Effectively manage database security
Server Studio™ provides a comprehensive collection of modern, easy-to-use, proven tools for DBAs and developers that emulate the natural workflow and improve efficiency of performing common database tasks such as: SQL development and debugging, schema management, configuration auditing and change management, performance tuning, data storage management and reorganization, security administration and much more — all from an integrated graphical console that unites all development, administration and maintenance activities for your entire IBM Informix® DBMS servers infrastructure at a centralized point of control.
Sentinel™ — Performance Management Option ("PMO") edition's configurable matrix of over 160 real-time diagnostics sensors and response automation facilities form the foundation of a highly adaptable infrastructure for monitoring your IBM Informix® environment's performance and availability on 24×7 basis. Easily customized monitors, which are assembled from these sensors, provide long-term persistent time-series measurement data of database servers' performance that are used by Sentinel's powerful issue discovery, diagnostics and analysis facilities to help pinpoint underlying causes of bottlenecks and resources contention issues. Multi-level alerts may be configured for each monitored parameter to provide proactive notification of performance problems and autonomic responses to server events. Sentinel — PMO edition provides you with all the tools needed keep to your IBM Informix® data servers' environment tuned for optimal performance and, if necessary, rapidly and competently resolve mission-critical data availability problems.
Sentinel™ — Change Management Option ("CMO") edition streamlines database integrity management by: capturing periodic database system configuration snapshots and retaining them in the built-in repository; providing robust facilities to perform comprehensive comparative analysis to detect changes in a live system from a reference baseline or between any two snapshots; as well as enabling easy roll-out, roll-back and recovery of lost or damaged database objects. It provides required management and control infrastructure that helps keep changes to your IBM Informix® database systems up to date, adhere to approved design baselines and resolve database configuration problems before they occur and adversely impact availability of vital data.
AGS products provide comprehensive support for your organization's critical IBM Informix® databases — from initial design and development all the way through to production deployment and successful operational service.